---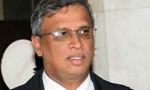 The Tamil National Alliance (TNA), which accounts for sixteen of the eighteen Members of Parliament from the Tamil-speaking north and east, said annual budget ignores the pressing issue of ethnic reconciliation.
TNA MP and spokesman M.A.Sumanthiran told Express on Saturday, that the Prime Minister Ranil Wickremesinghe appears to have consulted the Sri Lanka Freedom Party (SLFP), but did not consult the TNA.
The absence of consultation with the TNA is reflected in the lack of concern for reconciliation in the budget, Sumanthiran added. The island nation's budget was present by the Sirisena-Wickremesinghe government on November 10.
In the war-devasted Northern Province, people are struggling to make ends meet. But there is nothing in the budget for providing them with livelihoods, he said.
The budget, however, encourages the establishment of large scale business projects, but these are not employment providers as such. Among the grandiose projects is a modern vertical building in Jaffna with facilities for business establishments, residences and entertainment to be built at a cost of LKR 1 billion. (US$ 6.7 million). But this is not going to meet the needs of the local people, Sumanthiran said.
In this respect, the present regime seems no different from the Mahinda Rajapaksa government, which launched the Vaddakkin Vasantham (Blooming of the North) project in the Northern Province without considering the needs of a people who had just the emerged battered from a 30-year war. Roads and buildings were built, but virtually nothing was done for livelihood and housing, barring the India-funded and executed 50,000 houses project for war-affected families.