---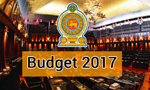 The private education sector would be monitored by the government, the Budget 2017 proposed.
Scholarships would be offered for top university students to study in Harvard University and Massachusetts Institute of Technology (MIT).
Further, Rs. 10 million would be allocated to meet ragging incidents and a sheet would be provided for students to state the funds spent on them. Meanwhile, higher education loans up to Rs. 800,000 would be provided for 15,000 students who fail to enter state universities.
Free tabs would be given to Advanced Level (A/L) students and teachers from 2017. Special insurance coverage for the students would be available.
Meanwhile, the expenditure on plantation would be limited to 5000 acres.