---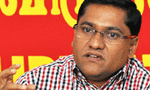 The Janatha Vimukthi Peramuna (JVP) said today, the 2017 Budget based on the conditions imposed by the International Monetary Fund, had pushed the people from the frying pan to the fire.
"Finance Minister Ravi Karunanayake has assured the IMF that the government would take steps to reduce the budget deficit by imposing taxes," JVP MP Vijitha Herath said and added that the
JVP was opposed to this anti-people budget and would vote against it in Parliament.
Mr. Herath said the Government had no option other than obtaining loans, imposing taxes and fines to bridge the budget deficit.
"The present government is also placing the country in a debt trap just like what the Rajapaksa regime did. The government hopes to obtain Rs.390 billion from the new taxes introduced in the 2017 budget and about Rs.230 billion was from the tax on goods and services," he said.
Mr. Herath said the government had no plans to increase State revenue by increasing production but instead had burdened the people.
"The government has inconvenienced the people by imposing new taxes such as carbon tax on vehicles and airport tax and much more," he said adding that the allocation for education and health had also been reduced considerably in the budget.
"The allocation for health was reduced from Rs.174 billion to Rs.160 billion and the allocation for education from Rs.171 billion to Rs.76.9 billion when compared with this year's budget. The allocation for higher education has been reduced from Rs.171 billion to Rs. 63 billion," he said.
Mr. Herath said the government had hoodwinked the people by reducing prices of certain goods while taxing them on others.
"The total price reduction is Rs.67 but the government is taking it back on just a one phone call. The government charging about Rs.50 from a Rs.100 phone card," he said. (Ajith Siriwardana)
Video by Danushka