---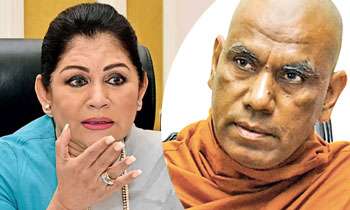 The Chief Sanga Nayaka of the Southern Province Venerable Omalpe Sobitha Thera yesterday alleged that the Buddha statue that was in the office of Colombo Mayor Rosy Senanayake has been removed.
The Venerable thera said this during a function held to mark the centenary of the Daham Pasala at the Vajirarama Temple held at the BMICH last evening.
"The Buddha Statue which was in the office of the Colombo Mayor has been removed. There have been a number of non Buddhists who have been elected Mayor in the past. However none of them removed this statute at any time. So one wonders as to why the incumbent mayor removed this statue and who gave the order to do so, "the Thera said.
Prime Minister Ranil Wickremesinghe, who was one of the chief guests at the event, said he had called Ms. Senanayake to verify this claim as soon as the Thera mentioned the removal of the statue during the function. "She informed me that it has not been removed and was inside the Townhall premises. She sent me a facebook picture of the statue as proof," the Prime Minister said.(Yohan Perera)