---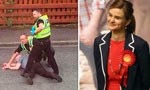 A British member of parliament was shot dead in the street on Thursday, causing deep shock across Britain and the suspension of campaigning for next week's referendum on the country's EU membership.
Jo Cox, 41, a lawmaker for the opposition Labour Party and a vocal advocate for Britain remaining in the European Union, was attacked while preparing to meet constituents in Birstall near Leeds in northern England.
Media reports said she had been shot and stabbed. West Yorkshire regional police said a 52-year-old man was arrested by officers nearby and weapons including a firearm recovered. "We are not in a position to discuss any motive at this time," said Temporary Chief Constable Dee Collins.
One witness said a man pulled an old or makeshift gun from a bag and fired twice. "I saw a lady on the floor like on the beach with her arms straight and her knees up and blood all over the face," Hichem Ben-Abdallah told reporters. "She wasn't making any noise, but clearly she was in agony."
The lawmaker's husband Brendan said: "She would have wanted two things above all else to happen now: one, that our precious children are bathed in love and two, that we all unite to fight against the hatred that killed her."
The rival referendum campaign groups said they were suspending activities for the day, with the Remain camp saying its activities would also be suspended on Friday. Prime Minister David Cameron said he would pull out of a planned rally in Gibraltar, the British territory on the southern coast of Spain.
Cameron said the killing of the mother-of-two, who had worked on U.S. President Barack Obama's 2008 election campaign, was a tragedy.
"We have lost a great star," the Conservative prime minister said. "She was a great campaigning MP with huge compassion, with a big heart. It is dreadful, dreadful news."
It was not immediately clear what the impact would be on the June 23 referendum, which has polarized the nation into pro- and anti-EU camps. But some analysts speculated it could boost the pro-EU "Remain" campaign, which in recent days has fallen behind the "Leave" camp in opinion polls.
Britain's sterling currency rose against the dollar after news of the attack, adding around two cents.(Reuters)