---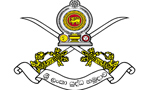 Brigadier M.D.U.V. Gunatilake has been appointed as new Director of Military Intelligence (DMI) with immediate effect.
Military Spokesman Brigadier Roshan Seneviratne said the appointment had been made by the Army Commander Crishanthe de Silva.
"A number of appointments were made including the appointment of the new DMI. The appointments are a result of routine changes in positions, which comes into effect in every two years," he said.
Meanwhile, Brigadier Suresh Sallay, who was the previous DMI, has been transferred to the Intelligence Regiment.(DS)