---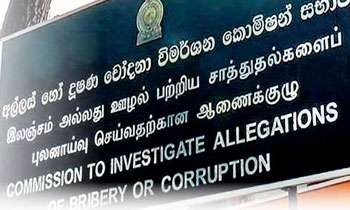 Government Medical Officers' Association (GMOA) Treasurer Dr Nath Wijesuriya has been summoned to the Bribery Commission this morning to record a statement over an investigation launched into an alleged foreign funds received by the GMOA.
GMOA Secretary Dr Haritha Aluthge and several top officials who met the Bribery Commission officials today handed over a letter stating that the complaint filed against them was false.
Addressing a press conference Dr Aluthge said there was a conspiracy led by several Ministers to suppress the GMOA in order to cover up their corruptions.
"The complainant or the nature of the complaint was not disclosed yet therefore the GMOA will request the Commission officials for the original complaint," he said.
Dr Aluthge said that all financial transactions of the GMOA were done in a transparent manner, while two internal and external audits were conducted annually.
He said that the GMOA never depended on Government or foreign funds or any independent commission could obtain the audit reports through the Department of Labour. (Thilanka Kanakarathna)
Video by RM