---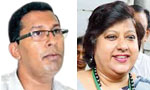 Yesterday's resignation of Bribery Commission (BC) Director General Dilrukshi Wickramasinghe is a move to avoid possible action against the culprits of the Central Bank (CB) bond scam, the Jathika Hela Urumaya (JHU) said today.
The JHU, which has repeatedly criticized the delay when taking action against offenders by the BC, CID and the FCID, said she had proved herself to be inefficient and accused her of carrying out her duties based on political agendas.
"She is fond of some of the top government leaders. The COPE report on the CB bond scam is to be published shortly will reveal who the real culprits are. She knows she will have to face difficult times when the case is referred to the Bribery Commission. This is why she resigned in the wake of the President's outburst," JHU National Organiser Nishantha Sri Warnasinghe told Daily Mirror.
However, he said the JHU was not aware of the reasons for her resignation but said the President's speech was not a cause for her to resign. "After all, she shouldn't forget that the President is not a ceremonial President. There is nothing wrong with informing the Leader of the country about the progress of the cases and investigations being carried out," he said.
When the Commission was blamed for being inefficient, Mr. Warnasinghe said the Director complained of inadequate human resources, facilities and salaries. "Parliament recently approved a salary increment for her and had attended to the other needs as well," he said.
He said the action taken by the BC with regard to the Avant Garde controvesy was also questionable. "Therefore, an efficient and an impartial officer should be appointed to the post of DG," Mr. Warnasinghe said. (Lahiru Pothmulla)