---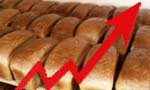 The price of a 450g loaf of bread was increased by Rs 4 with effect from effect from midnight. Accordingly the new price of a loaf would be about Rs 59.
All Ceylon Bakery Owners Association President N K Jayawardene told the Daily Mirror that they decided to increase the bread prices following the rise in price of white flour last week.
"We did not want to increase the prices last week as it was Consumer Week and now we have decided to do so," he said.
However, Mr. Jayawardene said the association had not decided to increase the price of other bakery products but had given the bakery owners a free hand to decide on their own.
"We have told the bakery owners that they could increase the price of other products passing on the least possible burden to the people," he said.
He said the white flour supplies should take the blame for the inconvenience, which the people might face in the wake of a price increase as they had immediately passed the burden on the bakery owners, when the Government imposed a tax on flour.
The Government, according to him, had decided to impose an import tax as the price of wheat flour had decreased in the global market. (Yohan Perera)