---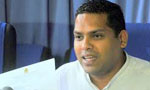 Bottlenecks had prevented the proper implementation of Google Loon project and free WiFi projects, Minister of Digital Technology Harin Fernando said today.
Minister Fernando told a news briefing that a delay on the part of Telecommunication Regulatory Commission (TRC) to give clearance for the Google Loon project had prevented its implementation.
He also said the failure of the company, which had undertaken the contract for the implementation of free WiFi project of the Government had led to the shortcomings.
"I accept that there are shortcomings in the free WiFi Project. This has been caused by the failure on the part of the company, which had taken the contract. I am currently in discussion with a Chinese company to ensure a smooth implementation of this project," the Minister said.
Further, Minister Fernando said he would have a discussion with President Maithripala Sirisena and Prime Minister Ranil Wickremesinghe to brief them about the two projects.
Mr. Fernando said that several IT and call packages would be implemented before the end of the year with the aid of new technology. (Yohan Perera)