---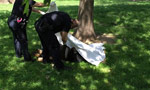 The body of a 43-year-old man was found under a mango tree at the Moratuwa University premises this morning, Police said.
They said the victim was identified as a resident of Katubedda, Moratuwa but said he was not an employee of the university.
Police suspect the victim had climbed the tree to pluck mangoes and has fallen to his death. A parcel of mangoes was found hanging on a tree branch.