---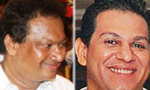 Oral Submissions in connection with the case against former Parliamentarian Duminda Silva and 12 others over the killing of Bharatha Lakshman Premachandra and three others was concluded today and fixed for judgment on September 8 by the Trial at Bar in the Colombo High Court.
The Trial at Bar comprising Justices Shiran Gunaratne, Pathmini N. Ranawaka and M.C.B.S. Morais ordered to submit written submission over the case on or before August 12, 2016.
Concluding the trial conducted over a period of nine months, the request made by the defence counsel to allow former Parliamentarian Duminda Silva to travel abroad for his medical treatment was rejected by the Trial at Bar. Duminda Silva was the 11th accused of the case.
Earlier, the Attorney General had filed indictments against 13 individuals including Duminda Silva on 17 counts over the killing of former Presidential Adviser on Trade Unions Bharatha Lakshman Premachandra, and three of his aides.
The killing took place within the Kolonnawa electorate, during the Local Government elections in October, 2011.(Shehan Chamika Silva)