---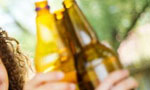 Ten female students of a leading school in the Southern Province, who had consumed beer and behaved badly inside the classroom, had been suspended, the School Disciplinary Unit of the Southern Province Eduction Department said.
The incident had taken place on World Children's Day.
The principal of the school had made every effort to cover up the incident, but the whole sordid episode became public knowledge after a complaint was made by the parents and teachers to the School Disciplinary Unit (SDU) of the Provincial Education Department, which launched an investigation and found the students guilty.
They had been given a one week suspension from school by the SDU.
On October 1, the students had brought 13 beer cans into the Grade 11 classroom and had consumed them.
Unfortunately for the students a glass filled with beer that was in the hand of one of the girls had fallen on the ground and had shattered spilling the liquid all over the floor of the classroom.
A teacher, who came into the classroom, had noticed the strange behavior of the girls and complained about the matter. (Janak De Silva)