---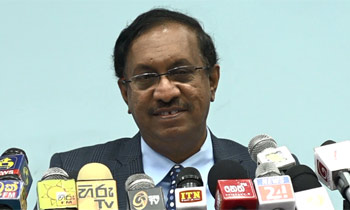 Disaster Management Minister Anura Priyadharshana Yapa today warned of an imminent food shortage, power and energy crisis and a scarcity of water for agriculture by March this year because Sri Lanka will not have any significant rain until mid March.
However, he told reporters that the government would take all possible measures to mitigate the effects of bad weather and appealed to the people to use water and power sparingly.
"The government has decided to import 250,000 metric tons of rice to offset any possible food shortage. We will do our best to soften the impact of the prolonged drought. The Irrigation Department has already curtailed the supply of water for agricultural purposes in certain areas so as to provide drinking water. Our main concern is the welfare of the people," the minister told a news conference held at the Information Department.
When asked by a journalist, he said deforestation could not be named as the direct cause for the dry spell and added Sri Lanka's forest cover still remains at around 23%.
With regard to the payment of compensation to those affected by the Salawa explosion, the floods in Kegalle and the landslide, the minister said a plantation company had agreed to release 350 acres of land to build houses for those displaced by floods and landslides in Aranayaka.
He said the government would pay Rs.400,000 on a staggered basis for 20 perches of land to those who have found a safe location to build their homes. (SAJ)
Video by Janaka