---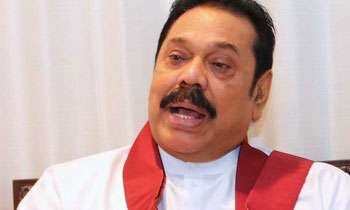 Opposition Leader Mahinda Rajapaksa called on the government on Saturday to be honest and say that that it wanted to increase the number of ministers without hoodwinking the people by talking about a national government.
The former president visited the Dalada Maligawa and the Malwatte and Asgiriya temples in Kandy and said to the media after these visits, that the leaders of the government who trumpeted to limit the number of ministers to 30 are now attempting to increase the number according to their wishes.
Mr Rajapaksa said that the there was a move to form a broad alliance to defeat this government at the forthcoming elections and replying to a question on the leadership of that alliance said that it would be none other than himself, who has to be the leader.
Speaking on the current trade action by the Customs officials, he alleged that the leaders of the government removed the Customs Director-General P.S.M. Charles, who has been a very efficient official, in order to protect fraudsters. He
praised Ms Charles for taking measures to eradicate fraud and corruption in the Customs Department. (J.A.L. Jayasinghe and Nadeeka Daya Bandara)
Video by Nadeeka Daya Bandara