---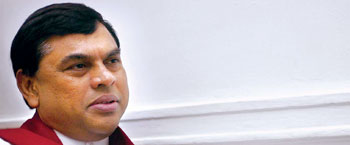 Former Economic Development Minister Basil Rajapaksa said yesterday that he had a brief telephone conversation with President Maithripala Sirisena for the first time after years, and discussed the matters related to current political developments.
However, Mr. Rajapaksa declined to elaborate on what was discussed. He said the telephone conversation took place with the mediation of Ven.Medagoda Abhayatissa Thera who is the head of Sunethradevi Pirivena of Pepiliyana, Nugegoda.
"This is the first time I had a telephone conversation with the President after four or five years," he said.
Asked about possible unity between the two factions, Mr. Rajapaksa who spearheads Sri Lanka Podujana Peramuna (SLPP) said there should be an opposition to the government. He said there were people disappointed with the government over the bond scam, the rising cost of living and the curtailment of subsidies and over nationalist sentiments.
"We should have a political force to accept them. What will happen to these people if we align with a government group?" he asked.(Kelum Bandara)