---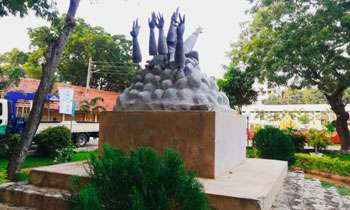 A group of Jaffna University students have forcibly completed the partly built Mahaviru Memorial in the university premises and opened it for display on Monday night despite University Grant Commission (UGC) instructions to stop work, Jaffna security authorities said.
Jaffna University Vice Chancellor Rathnam Vigneswaran stopped the construction work on the partly completed Mahaviru Memorial because the UGC did not approve it.
Jaffna University students who held the Mahaviru commemoration day in front of this half completed memorial recently had installed the other part of memorial built in a separate place after bringing it to the university premises secretly.
The upper part of the memorial displays several signs used by the LTTE to commemorate the Mahaviru day and a symbol hand emerging from the ground.
Those who built the memorial have not been yet identified and any necessary actions do not seem to be taken by the university administration. (Romesh Madushanka)