---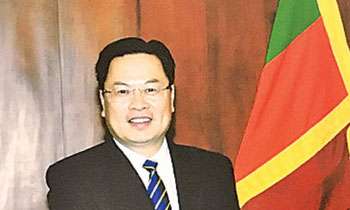 China's Belt and Road Initiative (BRI)is a golden opportunity for the development of Sri Lanka's economy and the improvement of its people's livelihood, Chinese Ambassador Cheng Xueyuan said.
He said the Belt and Road Initiative was highly compatible with Sri Lanka's national development strategy.
"Logically, Sri Lanka became one of the first countries to openly support the BRI, since it is highly compatible with Sri Lanka's national development strategy. I am glad to learn that President Maithripala Sirisena, Prime Minister Ranil Wickremesinghe, and other political leaders of Sri Lanka all expressed their willingness to actively participate in jointly building the BRI and make full use of Sri Lanka's superior geographical position to build itself as the Hub of Indian Ocean," the Ambassador said in a statement.
He said the Colombo Port City together with Hambantota Port and Industrial Zone are like two powerful engines for Sri Lankan economy to take-off.
"With the continuous development of these mega-projects, Sino-SL economic and trade cooperation is expected to start a new chapter. The Port City has already attracted the great attention of a large number of investors from China, the US and Europe. With the blue waters and pink sunset of the Indian Ocean, the under-construction port city site has become the most spectacular and beautiful scenery in Colombo," he said.
The Ambassador said Hambantota will play an important role for the development of the southern region of Sri Lanka and China has undertaken the construction of the Hambantota Port at the request of the Sri Lankan government.
"In addition, both sides have also agreed to establish an Industrial Park in Hambantota, to fully explore the huge advantages of the port. At present, the negotiations of large-scale projects such as LNG power stations, petroleum refinery, cement, iron and steel manufacture are accelerating, which are expected to bring drastic changes to the local economy and people's livelihood and surely become another new engine for Sri Lanka's development," he said.