---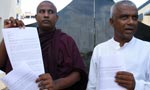 The Bodu Bala Sena (BBS), backed by some other organisations, today handed over a letter to the newly appointed Inspector General of Police Pujith Jayasundara to take legal action against Northern Province Chief Minister C.V. Vigneswaran and Opposition Leader R. Sampanthan for allegedly making statements igniting separatism.
Speaking to the media at the Police Headquarters after handing over the letter, Ven. Magalkande Sudaththa Thera of this collective of organisations, condemned a statement made by Mr. Vigneswaran asking for the merger of the Northern and Eastern Provinces which was against the 19th Amendment to the Constitution.
The Thera, who is also the Convener of the Sinhala Ravaya, said the Opposition Leader Sampanthan should represent all the provinces of the country and he should not be limited to a certain province.
"The present Opposition Leader only plays his role on the Northern and Eastern Provinces. He also tried to justify the LTTE's actions," the Thera charged.
Ven. Magalkande Sudaththa Thera said the BBS hoped that justice be meted out from the IGP and the Yahapalana government into this issue.
"We have made sixteen complaints to the Police Headquarters before and no investigation has taken place. We hope IGP Jayasundara will take legal actions by probing this complaint as he is a talented and senior officer of the Police Department," he added. (Kalathma Jayawardhane and Chaturanga Pradeep)
Video by Buddhi