---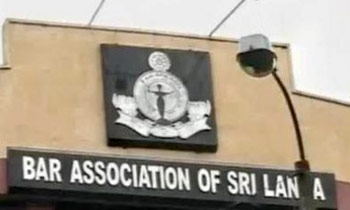 The Bar Association of Sri Lanka (BASL), the premier body of the lawyers in Sri Lanka, will conduct elections for its new office bearers including its president today.
BASL's outgoing president Geffery Alagaratnam told Daily Mirror that there would be a three-cornered battle for the presidency this year, as three leading lawyers -- Anura Meddegoda, U. R. L. Perera and R. Thangarajah will contest for the post.
He said there would be around 8,000 votes, while other sources said the total number of voters could be as high as 14,000. He said the polls would be held in the districts where the BASL has branches. The results are expected to be out at around 6.30 pm.
Both U. R. L. Perera and Anura Meddegoda were engaged in a strong SMS campaign last evening. Mr Perera's campaign said "Vote for U R L Perera so that I can bring about the change you want", while the SMS campaign of Anura Meddegoda said "I stand up against the infringement of Bar Association Members and safeguard the dignity of our profession".
BASL elections have become an event which has been focused upon by the lawyers themselves, in political circles and in civil society. Some candidates have been backed by political parties, and there have been instances where party members have contested for the presidency in the past. (Yohan Perera)