---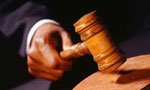 Avant Garde Captain Gennady Garvlov, remanded on charges of possessing and transporting illegal weapons was yesterday re-remanded till August 8 by Galle Chief Magistrate Nilupuli Lankapura.
CID informed Court that the Navy took in to custody the Avant Garde when it was within 11.95 nautical miles and therefore it came under the jurisdiction of the Court. According to the statement by the Training Inspector of the Merchant Shipping Secretariat the responsibility for possession of the cargo in transit rests with the captain of the ship.
CID also requested court to direct the relevant authorities to permit to take the photographs of the contents of the weapon boxes and containers within 14 days from August 2 and to take a sample of the suspect's handwriting and fingerprints. The CID objected to the release of suspect on bail as investigations were still in progress.
The attorney appearing for the suspect said the statement by the Merchant Shipping Secretariat was not relevant because Avant Garde is not engaged in the import or export of cargo.
The lawyer appearing for the ship's owning company said documents A to G supported with affidavits have been submitted to seek the release of the ship.
The Judge after considering the submission of both the parties permitted the CID to take relevant photographs and obtain the samples of handwriting and fingerprints of the suspect.
Attorney Sampath Mendis appeared for the captain. Attorneys Ajith Pathirana, Prasanna Arampath appeared for the Avant Garde Maritime Shipping Company while Attorneys A.P.G. Sarathchandra, Chathura Dissanayake, Sujani Basnayaka appeared for Ceylon Shipping Company with President's Counsel Shanaka Ranasinghe.
State Counsel Janaka Bandara and CID led the prosecution. (D.G. Sugathapala and Sumathipala Deeyagahage)