---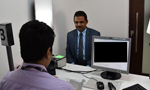 The High Commissioners of Australia and the UK to Sri Lanka formally inaugurated VFS Global's new Visa Application Centre (VAC) yesterday, the two embassies in Colombo said in a statement.
The new VAC is located in Arnold Ratnayake Mawatha and offers customers a larger application centre and more appointments slots. This will make the process of applying for UK and Australian visas quicker and easier for customers. The VAC will be open Monday to Friday from 09:00 - 14:00.
The British High Commissioner to Sri Lanka James Dauris said that UK Visas and Immigration continues to make improvements to the visa service that UK offer to its Sri Lankan customers, to make it quicker and more straightforward for them to apply for visas.
"We continue to make improvements to the visa service. This year we have introduced a new visit visa application form which is quicker and simpler to fill out. The form is available in Sinhalese and Tamil to help ensure that all of our Sri Lankan customers can properly understand our visa application requirements," Dauris said.
The Australian High Commissioner to Sri Lanka Bryce Hutchesson said that the new Visa Application Centre will continue to assist the Australian Government manage more than 25,000 visa applications lodged in Sri Lanka each year.
Australia's Department of Immigration and Border Protection and VFS are working to make the Australian visa lodgement process a convenient and comfortable experience for travellers from Sri Lanka. These new arrangements will facilitate the smooth flow of ever increasing numbers of visa applicants and enhance the client experience, Hutchesson said.