---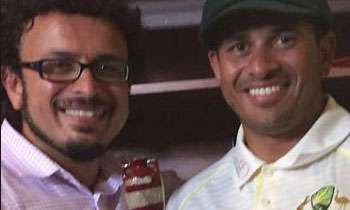 The brother of Australian international cricketer Usman Khawaja has been arrested as part of an investigation into a terror plot.
Meanwhile, New South Wales Police are preparing to charge Arsalan Khawaja over what they allege was a 'planned and calculated' attempt to frame a Sri Lankan student as a terrorist.
The 39-year-old will be charged with perverting the course of justice under Commonwealth legislation, as well as forgery under NSW law, after he was arrested in Parramatta this morning.
His arrest follows an investigation into an allegedly fake list of terror targets found in a notebook that was used as evidence to charge Sri Lankan-born PhD student Mohamed Kamer Nizamdeen with a terror offence.
Mr Nizamdeen was charged with a terror offence in August and spent four weeks behind bars before charges were dropped against him due to a lack of evidence connecting him to the notebook.
Assistant Commissioner Mick Willing said police will be alleging "he [Mohamed Kamer Nizamdeen] was set up in planned and calculated manner, motivated by a personal grievance."
The 25-year-old is now seeking costs and compensation after he spent four weeks behind bars.
Assistant Commissioner Willing said police regret and felt "very sorry" about the time Mr Nizamdeen spent in custody, but stopped short of apologising to him.
"We regret the circumstances which led to him being charged and the time he subsequently spent in custody. We feel very sorry for him and what has happened to him."
He said acting early to prevent a potential terrorist threat was critical.
"We regret what happened to Mr Nizamdeen. But, really, the person who is responsible for what occurred to him is the person we're alleging manufactured this document," he said.
Sri Lankan publication, Daily News, reported that Arsalan Khawaja was one of Kamer's supervisors at the University of NSW.
The seized notebook allegedly contained a list of potential terror targets including the Sydney Opera House, police and railway stations.
Former prime minister Malcolm Turnbull, ex-foreign minister Julie Bishop and their Liberal Party colleague Bronwyn Bishop were also listed as potential targets.(Source SBS News)