---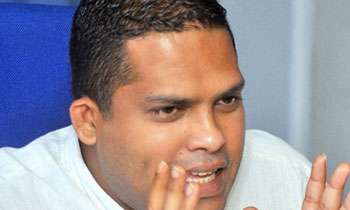 A Sri Lanka Cricket (SLC) employee has been sent on compulsory leave, pending an inquiry, after he attempted to bribe Sports Minister Harin Fernando to include a player in the Sri Lanka 'A' Team.
The employee was sent on compulsory leave by the SLC Management Committee, following a complaint from the ICC Anti-Corruption Unit (ACU), who have set up an office in Sri Lanka to investigate corruption in cricket in the country.
The employee, a video analyst believed to be connected to the SLC Brain Centre, had made this offer to the Minister over a WhatsApp message and offered Rs. 1 million, for use in charity work, in exchange for including a relative in to the Sri Lanka 'A' Team for the ongoing series against Ireland 'A' .
The Minister had, after refusing the bribe, handed over his mobile phone which included the WhatsApp conversation with the individual to ICC investigators.
"Given the current situation with the ICC investigating Sri Lanka, they took these complaints seriously," Minister Fernando told the Daily Mirror yesterday.
Following the meeting between Fernando and ICC Anti-Corruption General Manager Alex Marshall last month, soon after the Minister had taken office, the ICC posted an official in Sri Lanka and gave local cricketers a two-week amnesty period to come forward with any information regarding approached from match-fixers.
The ICC on Monday expressed satisfaction in the number of players who have come forward, while calling on more cricketers to report approaches in exchange for amnesty.
The Daily Mirror also learns that the ICC investigators may have some concern of a possible link between the individual who attempted to bribe the Minister and other people being investigated for fixing.(SMD)