---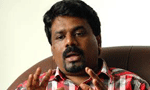 The present government has set in motion a dangerous trend by threatening and attacking the media, Chief Opposition Whip Anura Kumara Dissanayake told Parliament today.
Speaking during the committee stage debate on the budget, said President Maithripala Sirisena and Prime Minister Ranil Wickremesinghe had resorted to such threats.
Mr. Dissanayake said the recent statement by President Sirisena that front pages of newspapers were destroying the country was on such example. "The rulers are the ones who are destroying the country," he said adding that the statement made by Mr Wickremesinghe on July 23 that the Daily Mirror Editor would be taught a good lesson also amounted to an indirect threat.
Mr. Dissanayake said there were issues pertaining to ethics in media institutions and journalists but there were ways to criticize them.
He spoke on behalf of the journalists saying their salaries should be increased and described the incidents of killing, abducting and assaulting journalists as those which had taken place during a 'black decade'. (Yohan Perera)