---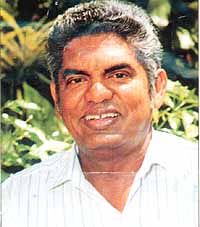 Dayantha Athulathmudali, - brother of late Minister Lalith Athulathmudali who was killed in April 1993 - yesterday called for a fresh probe on his brother's killing.
"Twenty years have gone since the killing of my brother and I would like to request a probe on his killing as his killing will go down in history as a mystery just like the killings of journalists Lasantha Wickramatunga and Prageeth Ekanligoda," Mr. Athulathmudali said speaking at the Lalith Athulathmudali memorial lecture last evening.
He also requested the government to expand the Mahapola scheme founded by his late brother so that scholarships could be given to those who wish to engage in post graduate studies.
Recalling his experience during the funeral of his brother, Mr Athulathmudali related how tear gas was fired at the funeral procession. "We had to shed tears even before we reached the cemetery that day as tear gas was fired at us," he recalled.
Coming up with some unknown facts about his brother, Mr Athulathmudali said the late Singaporean Prime Minister offered late Lalith Athulathmudali citizenship of his country and a ministerial post in his government. " Mr Atulathmudali would have been living today had he agreed to the request made by Late Singaporean Prime Minister to give up Sri Lankan citizenship and take up citizenship in Singapore," he said.
Further Mr. Athulathmudali recalled how his brother reacted to the decision of the government of 1987 to call off the Wadamarachchi operation when the security forces were closed to capture LTTE leader Prabahakaran. " My brother was in a mental distress when I visited him that day as he used a four letter word to refer to the then President and I told him to calm down. I told him to calm down as he should be diligent in what he did being a product of Oxford University," he said. (Yohan Perera)