---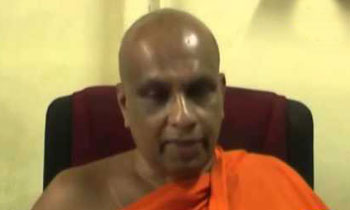 The Asgiri Sangha Sabawa is opposed to any move by some politicians to bring a no-faith motion against a minister actively engaged in Buddhist activities, the Asgiriya Maha Lekakhadikari the Ven. Dr. Medagama Dhammananda Thera said in a special statement to the media.
He said Minister Rajapakshe has already done a great service to the Buddha Sasana organising the World Buddhist Congress.
The prelate said in consideration of his service to the Buddhism the honorary title of "Dharma Neethi Visarada" was conferred on him by the Asgiri Viharaya.
"The views expressed by the minister and safeguarding the natural resources of the country has displeased some individuals and they are attempting to victimise him," he said and added that the minister could not be blamed for the delay by the Attorney General's Department to file action against corrupt politicians.
"Some MPs are unhappy about his views on leasing the Hambantota Harbour to a Chinese Company. (J.A.L. Jayasinghe)