---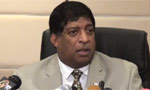 Minister Ravi Karunanayake said that despite excitement in the Joint Opposition regarding predictions on arrests, people living in the country were aware of the investigations and therefore were able to arrive at reasonable conclusions.
"I spoke of this (Namal's) arrest two months ago, we live in this country and not overseas isn't it? So, we are aware of what is going on in the country," he said.
He made this remarks in response to a question raised by a journalist at a press conference held at the Ministry of Finance recently.
"It isn't only Namal, there are a lot of other Rajapaksas, who have to answer," he said.
During the brief questioning Minister P. Harrison intervened and said that any person could assume such arrests, due to the frequency of visits to the FCID and the CID.
"You could see the number of times they visit the two places. It is only obvious to assume that the arrests are imminent," he said.
Video by Amantha