---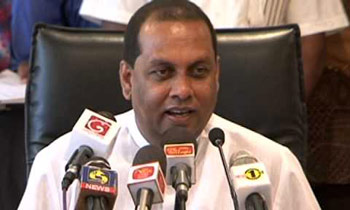 The Government would not stop arresting Indian fishermen and trawlers if they crossed the International Maritime Boundary Line and engaged in fishing in Sri Lankan waters, Fisheries Minister Mahinda Amaraweera said today.
He said any Indian fishermen would be arrested if found fishing in the Sri Lankan waters and all captured trawlers would be confiscated.
"About 5,000 Indian trawlers enter in to our waters and take our resources forcibly, destroying our maritime resources," he noted.
"The issue has been there for the last 30 years but no previous Government could find a sustainable solution.
"But as the present Fisheries Minister, I have given the orders to arrest the fishermen who trespassed into the Sri Lankan waters. Trawlers and other fishing gear confiscated before 2015 were released.
"But the same Indian fishermen came back in to Sri Lankan waters for fishing after getting their trawlers back," the Minister said.
He said the seized trawlers would not be released anymore and there were about 128 trawlers under Sri Lankan custody.
"Indian fishermen used to do illegal fishing thrice a week in our waters. Most of them come with steel boats and they would crash in to our boats leaving behind heavy damages to our fishermen.
"However the Indian Government has accepted the complaints made by us saying the Indian fishermen were used to do illegal fishing methods such as bottom trawling, which destroys maritime eco system.
He said that another round of discussions would be held in Sri Lanka in April to discuss the issues, he said.
"I will get involved to find better solutions, while developing the good-will between the countries.
"By now, the Indian Government had informed the Ministry that they had taken fir solutions over the issues," he said.
"About 92 bottom trawling Sri Lankan fishermen had been sent to international waters for deep sea fishing. Also, steps have been taken to give more openings in various fishery-related fields for employment among the fishing communities," he said.
However, Minister Amaraweera said Indian Government had informed him that the Indian Government had barred issuing licences for bottom trawling for Indian Fishermen. (Chaturanga Pradeep)