---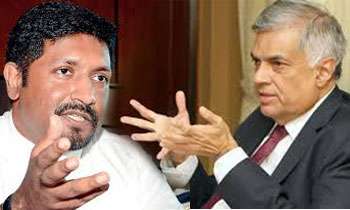 The Government informed Parliament yesterday that the Army would be restructured as per the time demands but it would not result in a downsizing.
This assurance was given by both Prime Minister Ranil Wickremesinghe and State Minister of Defence Ruwan Wijewardene, who responded to a question raised by Joint Opposition Parliamentary Group Leader Dinesh Gunawardane in the House last afternoon.
Prime Minister Wickremesinghe said the Army Commander Mahesh Senanayake, had informed him that he was willing to have a dialogue with the Opposition and explain the real position to them.
"The decision to restructure was made by the Army itself and not by me or by the President. Decisions regarding the Security Forces are made by the military officers. The Government has nothing to do with it," The Prime Minister said.
Mr Wickremesinghe said even the British Army went through restructuring after the completion of World War II.
He said the Sri Lankan security forces were well recognized today as they had been called to be a part of UN Peace Keeping Operations in Mali.
He said Sri Lankan security forces would be playing a major role in ensuring the security of Indian Ocean region before long.
Mr Wijewardene said few brigades would be merged but would not be abolished.
"One may perceive that the Army will be downsized and weakened but it is not the reality as the number soldiers and officers serving the army will not be reduced at all with this exercise," he said.
The State Minister of Defence also dismissed the claim made by the Opposition that more than 100 Army camps in the North would be dismantled.
He said no camp had been closed in the North, while there was no plan to close down in the future as well.
Also, he said some brigades in the Army did not have the number of personnel as stipulated. He said downsizing would not happen in such circumstances.
Mr Gunawardane who raised the question on the issue charged that the Army was going to be downsized by 23,000, while 100 camps were to be closed down with the proposed restructuring. (Yohan Perera and Ajith Siriwardana)