---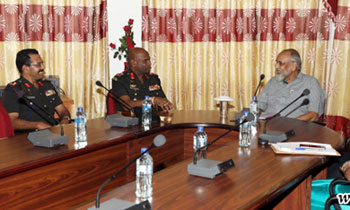 Army Commander Mahesh Senanayake said the possibility of releasing more lands to civilians in the North would be explored in line with government policy.
He expressed these views during a meeting with Northern Province Chief Minister C.V. Vignewswaran at the Chief Minister's Office in Nallur, Jaffna yesterday.
The Commander citing examples highlighted the Army potential available all the time for the civil- military cooperation.
The Commander in his discussion pointed out to the Chief Minister that Army was capable of providing leadership for school cadeting programmes if the provincial department of education sought such assistance.
The Army Chief also offered his assistance to resolve issues pertaining to the fishing community in a more practical and friendly manner if such issues were referred to the required military formations.