---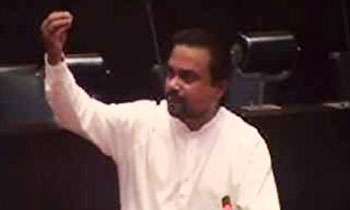 An allegation made by Opposition MP Wimal Weerawansa that only those who belong to a certain Christian denomination are being appointed as Supreme Court Judges started heated arguments in Parliament yesterday.
"A Supreme Court Judge who was appointed recently belongs to a Christian denomination which is funded by the US. The Constitutional Council (CC), which claims to be independent, does not approve the nominees of the President as Supreme Court judges unless they belong to this religious denomination.
The situation is the same when it comes to our national cricket team," Mr. Weerawansa argued. Minister of Justice, Thalatha Athukorala, pointed out that religion is not considered when appointing judges.
"If you are making this allegation please name this judge and the religious denomination he belongs to," she told the MP. MP Weerawansa then said he would reveal the names of these judges if a debate on the issue was held in the House.
JVP MP Vijitha Herath, responding to the allegation made by Mr. Weerawansa, later said some of the Supreme Court Judges who belong to the religious denomination in question were appointed by former President Mahinda Rajapaksa and incumbent President Maithripala Sirisena.
"It is no point in arguing about what religions denomination these judges belong to as they were appointed by the leaders of the political camp which Mr. Weerawansa himself is associated with," he said. Also, he said everyone should be free to practice his or her faith as it is a personal matter. (Yohan Perera and Ajith Siriwardana)