---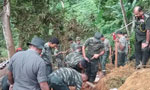 Major General Sudantha Ranasinghe, who is in charge of the rescue operation in the Aranayake landslide site, said the search operation was called off today.
Religious observances including 'Pansu Kulaya' were held at the site to invoke blessings on the dead today.
"Many family members took part in the religious observances. We called off the search operations in the wake of requests made by the people," Maj. Gen. Ranasinghe said.