---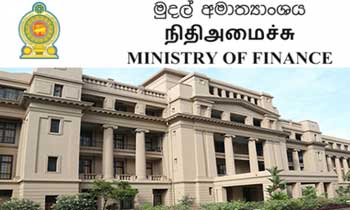 The Appropriation Bill that will depict county's estimated expenditure levels for 2018 would be presented to Parliament tomorrow, Finance Ministry said today.
A press release issued by the Ministry of Finance said the estimated State expenditure would be Rs.3.9 trillion (Rs.3, 982 billion) while the expected revenue would be Rs.2.1 trillion (Rs.2, 175 billion).
It said:
"Accordingly, the expenditure for the year 2018 has increased more than 100 percent as the estimated expenditure for the last year was Rs.1.8 trillion (Rs.1, 819 billion).
"The estimated revenue is also higher than the last year as the estimated revenue was Rs.1.9 trillion (Rs.1, 978 billion) compared to the estimated revenue of Rs.2.1 trillion (Rs.2, 175 billion in 2018).
"The second reading of the Appropriation Bill (Budget 2017) will take place on November 9, 2017, while the vote on the third reading will take place on December 9," the Ministry said.
The theme of the budget will be 'A strengthened economy and a rich nation' according to the ministry.
Proposals for the budget will be accepted till October 18 2017, the release added.