---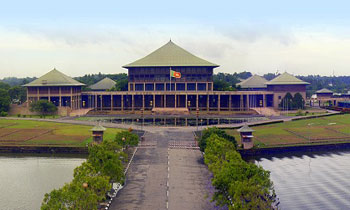 Ahead of the 2018 Budget next month, the government presented the Appropriation Bill in Parliament today outlining the amount funds allocated to each of the ministries.
It seeks approval to increase spending for the office of the President, that of the Prime Minister and for several other ministries such as defence, health, education, higher education and disaster management.
According to the Appropriation Bill presented by Acting Finance Minister Eran Wickramaratne, government expenditure for next year is estimated at Rs.3,982 billion while the expenditure for 2017 was estimated at Rs.1,819 billion.
The estimated expenditure for the President's Office has been increase to Rs.9.9 billion compared to Rs.6.4 billion in 2017. The amount allocated to the Prime Minister's Office has been increased to Rs.1. 7 billion compared to Rs1.2 billion in 2017. The Defence budget has been increased to Rs.290 billion compared to Rs.284 billion in 2017. The amount allocated for health is Rs.178 billion compared to Rs.120 billion in 2017; for higher education and highways the allocation has increased to Rs.182 billion compared to Rs.163 billion in 2017; the allocation for education is Rs.102 billion while in 2017 it was Rs .76 billion. The amount allocated for disaster management is Rs.5,810,700, 000 compared to Rs.4,611,893,000 in 2017.
The allocation for provincial councils is Rs.218,217,379,000 compared to Rs.214,123,449,000 in 2017. (Yohan Perera and Ajith Siriwadana)