---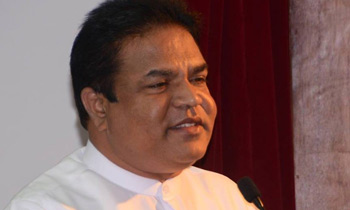 Minister of Rural Economy P. Harrison said that the media had blown a statement made by the President Maithripala Sirisena regarding the assignment of Minister Sarath Fonseka to a top post out of proportion, but it was a mere joke cracked at the Cabinet meeting held last Tuesday (25).
The minister said this at a workshop held at Galpokuna estate in Kuliyapitiya that he participated in where a delegation of specialists from the Netherlands were also present.
He said said this when questioned by the media about a remark by the President with regards to the new post given to Field Marshal Sarath Fonseka."Not at all. It was manipulated by the media. This was a question the President posed to FM Sarath Fonseka as a joke. This has been misconstrued by the media as a return to the Gotabhaya era where fear and terror is spread within a military-style government. That will never happen.
Expressing his views on the May Day rally to be conducted by the UNP he said they would hold the biggest, best attended May Day rally ever held in the history of the country.
"It is not an easy task to fill the Galle Race Green with the people. This time the joint opposition have a tough task ahead of them. MP Bandula Gunawardena announced that they would bring 2 million people to their rally. This time their nakedness will be there for all to see." After May Day several persons will again run to the President.
The minister said further that as a mature party like the SLFP knows how to commemorate May Day without the support of others as they possess sufficient experience in this regard.(Dinesh Upendra)