---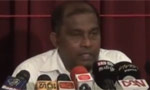 The Purawasi Balaya Organisation (PBO) said today there was no need to wait for the return of Finance Minister Ravi Karunanayake to finalize the appointment of the Central Bank's new Governor because the CB did not come under the purview of the Finance Ministry anymore.

PBO member Joseph Stalin said the Central Bank was under the purview of the Prime Minister and accused the government of wasting time by waiting for the Finance Minister's arrival.

"They can always phone the minister if they want his consent so badly," he said and added that by allowing the Governor's post to remain vacant for so many days will further jeopardize the economy.

Mr. Stalin urged the President and the Prime Minster to make the appointment without any further delay.

He said the appointment should not be a political appointment like that of former governor Ajith Nivard Cabraal.

Meanwhile, he recalled the assurance given by the President and the Prime Minister not to reappoint former governor Arjuna Mahendran, whose term of office ended on June 30.

"Amid several allegations and objections against Mr. Mahendran and knowing that his tenure will come to an end soon, the government had failed to come up with a suitable replacement," Mr. Stalin said.

He said none of the investigations had cleared Mr. Mahendran of the charges against him.
"The court case only said that there has been no violation of human rights with regard to the Bond Sale. It doesn't mean whether a fraud had taken place. In this context, Prime Minister Ranil Wickremesinghe's comments on the ITN over Mr. Mahendran's allegations are not acceptable," Mr. Stalin said. (Lahiru Pothmulla)
Video by Amantha