---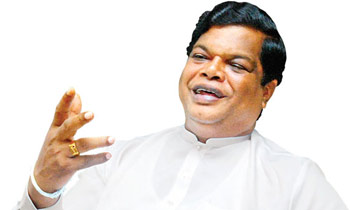 Finance Minister Ravi Karunanayake will be better off with another portfolio like that of Cultural Affairs or Buddha Sasana Affairs, the joint opposition said yesterday.
It said the minister should resign as he had made baseless allegations that former president Mahinda Rajapaksa was responsible for the controversial bond sale issue.
"If he didn't resign, the President should remove him. The country's economy will be saved if instead of his current portfolio he is appointed Cultural Affairs Minister or Buddha Sasana Affairs Minister," MP Bandula Gunawardana told a news conference.
He claimed the finance minister had attempted to convince people that the bond issue was a result of a gazette notice issued by ex-president Mahinda Rajapaksa but the acting Government Printer had told the Commission of Inquiry that Mr. Rajapaksa was not involved in any way.
"When the Printing Department had inquired about the discrepancy in the signatures, the Debt Department had not given specific instructions to avoid using Mr. Rajapaksa's signature. Central Bank Governor Indrajit Coomaraswamy has also said Mr. Rajapaksa was in no way involved in the gazette notice as claimed by the Finance Ministry," the MP said.
He said Minister Karunanayake had visited the Central Bank on February 26, 2015 and informed officials that the ministry was in need of Rs.15 billion to pay for the construction of roads.
"This information was sent to the Perpetual Treasuries by then Governor Arjuna Mahendran. On February 27, they won the jackpot. Not a gazette or Mr. Rajapaksa but this government itself is responsible for the bond issue," he claimed. (Lahiru Pothmulla)