---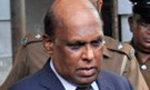 Former Western Province Senior DIG Anura Senanayake, who was arrested in connection with the death of former Havelock's rugby captiain Wasim Thajudeen, was admitted to the Sri Jayawardanapura Hospital for medical treatment, the Prisons Department said.
Prisons spokesman T. N. Upuldeniya said Mr. Senanayake was admitted on Wednesday night and would be warded there for three days under security.
On an earlier occasion Court had ordered him to undergo a medical examination and this had led to him being hospitalized for further examination.
Ex-DIG Senanayake was arrested on charges of covering up the evidence in Wasim Thajudeen's death on May 23 and was remanded till June 23 by the Colombo Additional Magistrate. (Darshana Sanjeewa)