---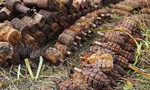 Fourteen pressure mines, 21 bombs, one RPG launcher and four mortar ammunitions were unearthed by the police in the Illuppukadawai police division in Mannar this afternoon.
Police said the haul of ammunition was found in a deserted cesspit behind the Agrarian Services Department in Illuppukadawai on a tip off received by the Illuppukadawai Police Post.
They said the bombs were disposed by the army following the magisterial inquiry, which was conducted by the Mannar Magistrate.
A suicide kit, four claymore mines, three parcels of C4 explosives and ammunition were also found in a house in Vallakulam, Chavakachcheri this morning on information received by the Jaffna police. (Ajith Siriwardana)