---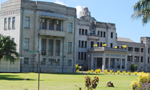 Another Sri Lankan Magistrate has joined the ranks of the Magistrate Court in Fiji after being sworn in by Fiji's President Jioje Konrote yesterday, Fiji Times reported today.
Magistrate Gammaddagoda Priyantha was formally appointed by the head of State with the Chief Justice, Judge Anthony Gates, and Chief Registrar Yohan Liyanage present.
The event took place at the State House.
Mr. Priyantha joins a number of Sri Lankans who joined the Magistrate Court in Fiji over the years.
He previously worked as the Assistant Director (Legal) and prosecutor at the Permanent Commission to Investigate Allegations of Bribery and Corruption of Sri Lanka.
A government statement issued yesterday said the new appointee had more than nine years experience as a magistrate in various provincial courts in Sri Lanka and had published research articles, and attended numerous international training.