---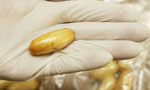 A 53-year-old Pakistani national was arrested by the Police Narcotics Bureau with pellets of heroin in his stomach at the Bandaranaike International Airport (BIA) last evening, Police said.
They said the suspect was admitted to the Negombo Hospital, where the contraband was retrieved under medication.
So far 12 pellets had been extricated from him, Police said.