---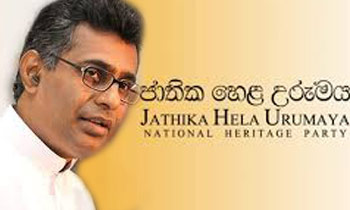 The Jathika Hela Urumaya (JHU) said today its May Day rally would focus on the plight of the real working class including pavement hawkers, cleaners and porters.
It said the rally would be a turning point in Sri Lanka's history at a time when most political parties were celebrating May Day to showcase their political strength rather than highlighting the concerns of the workers.
JHU General Secretary and Minister, Patali Champika Ranawaka said even though Colombo and its suburbs were beautified, the lives of the workers in Pettah and Fort had remained unchanged since British times.
He said little or nothing had been done to improve the living standards of the workers in Fort and Pettah even though they had participated in May Day rallies organized by political parties for political gain.
The minister said the JHU would distribute insurance policies to 1,500 families living in Fort and Pettah so as to secure their future.
He said strikes launched by instigating the people working in the Port, the Railway Department and tea estates had resulted in a drawback for the country and added that the Colombo Port which was ranked fifth in the world had now fallen way down the list.
"We want to raise the standards of the Colombo Port to be one of the best in the world. We will develop the Port City so that your children can work as ship engineers and captains. There will be no strikes in the Port City and will provide an opening for your children to live better lives," the minister said. He said plans were afoot to relocate the Manning Market in Peliyagoda and the premises to be developed into a transport hub with access to buses, taxis, trains and trams.
"We build a Business Centre in Pettah for the betterment of your children. We will put a stop to drug trafficking and underworld activities," the minister said. Deputy Minister Karunaratne Paranavithana, JHU national organiser Nishantha Sri Warnasinghe also addressed the rally. (Ajith Siriwardana)