---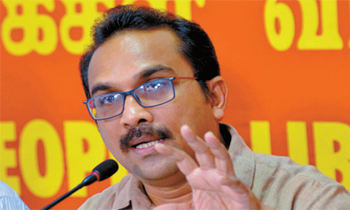 Although the government is hoping to liberalise the economy by amending various Acts and Ordinances as proposed in the Budget, amending of these acts will result in the country being caught up in a debt trap, the Janatha Vimukthi Peramuna (JVP) said today.
MP Bimal Rathnayake said these Acts and Ordinance were archaic and the government was attempting to amend them according to the needs of foreign multinational companies.
He said in the recent past, the country's exports had been gradually reduced while imports doubled, but successive governments still followed the failed economic methods to strengthen the economy. The MP said one tenth of the entire cost of imports was spent on people's food and it would therefore have been advantageous if the government focussed on reviving the local agricultural and industrial sector.
He accused the government of altering or abolishing outdated Acts to permit the sale of the country's resources to foreign companies and that it was amending the Shop and Office Employees Act of 1954 by violating employees' rights to overtime after an 8-hour shift.
"By amending the Act the government is attempting to decrease the age limit for child labour from 18 to 16 or 14. Those things cannot be permitted and the JVP won't allow it to happen," he said. (Thilanka Kanakarathna)