---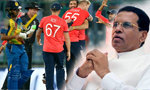 Commenting on the nerve wracking game between Sri Lankan and England for the World T20 yesterday, President Maithripala Sirisena yesterday tweeted that he would always be proud to watch the Sri Lankan boys play despite the outcome of the game.
The match played in Delhi yesterday and England qualify for the Semi finals after they won the match by 10 runs.
"Win or lose, always proud to watch the SL boys play. We'll come back stronger next time" the President tweeted.