---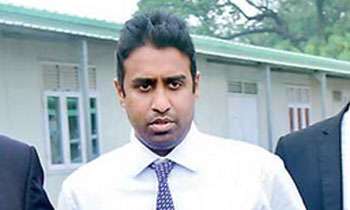 Filing a motion in the main inquiry relating to the bond scam, the defence counsel yesterday alleged that the CID had not allowed legal representation for suspect Arjun Aloysius when he reported to the CID last Sunday, January 6.
Appearing on behalf Arjun Aloysius, Counsel Sajitha Jayawardena said when his client went to the CID to report his presence as directed by the court, he was not allowed to take his lawyers inside the Unit, thus depriving his right to legal representation.
Earlier, when the suspects were being enlarged on exceptional bail, the Court imposed a condition on them to report to the CID every Sunday.
When the Chief Magistrate questioned as to why such representation was required when reporting to the CID, the Counsel said that his client was under a lot of pressure that there could be a fabricated situation and that he had intervened with the witnesses which may result in cancelling his bail.
Mr. Jayawardena also said that his client had a language issue in understanding Sinhala documents. President's Counsel Navaratne Bandara also appearing for two lawyers, whose access into the CID were curtailed, said that the translation of the Sinhala texts relating to the signing documents were done to Aloysius by the other suspect Kasun Palisena on this occasion as his lawyers were not allowed to go in.
He said some CID officers had violated section 55 of the Police Ordinance by blocking the entry of lawyers and that it was a humiliation and harassment towards the lawyers.
However, when the Magistrate questioned the officer who was in charge of that CID unit on that day, he said there was no previous practice as such to allow lawyers to go in with suspects who come only to sign and report to the CID as per court orders. He added that he further wanted to consult the director of the CID with regard to the issue that they never confronted this before.
After inquiring into both parties, Colombo Chief Magistrate Lanka Jayaratne said that any person had the right to have legal representation when going into any institution like the police, and that Arjun Aloysius also had the right to carry his lawyer inside the CID as his legal representation to assist him when reporting to the CID.
However, the Magistrate also said such legal representation has boundaries as those lawyers cannot intervene with the procedural aspects of the CID officers in relation with the inquiry. (Shehan Chamika Silva)