---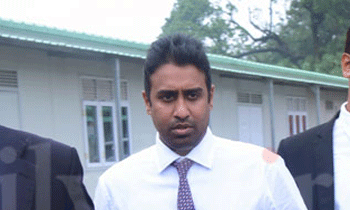 Arjun Aloysius, who was in remand in connection with the Central Bank bond fraud, alleged that the investigating officers of the Central Bank bond scam had let the two main suspects off scot-free and without charging them even though there was ample proof against them.
Mr. Aloysius filed a motion in the Colombo Chief Magistrate Court today through his instructing Attorney Amila Pieris.
Mr. Aloysius had complained to Magistrate Lanka Jayaratna that the prosecution conducting the investigations into the scandal had let Senior Deputy Governor Nandalal Weerasinghe and Deputy Governor Ananda Silva of the Central Bank off scot-free without holding them for the scam while there is ample proof against them over their involvement in the scam.
Counsel Sajitha Jayawardena, appearing with Aravinda Gamage and Dayal Wanniarachchi, instructed by Attorney Amila Pieris submitted that the Presidential Commission who inquired into the scam had said in their report that the Deputy Governor Silva and Weerasinghe who were very experienced officers of the Central Bank, bore a responsibility to look after the interests of the bank.
Instead they had remained silent and did not consult Mr. Mahendran to desist from the course of action or at the very least record their opposition to the direction he issued to the Public Debt Department (PDD).
It was also said that both deputy governors would have been aware that an auction was underway when Mr. Mahendran invited them to accompany Mahendran to the PDD after the Corporate Management Committee meeting.
The report had emphasised that they should have advised Mr. Mahendran at that time and that it was not proper for the Governor to visit the PDD during an auction.
The Counsel further said that this had been asserted by Government Auditor, Gamini Wijesinghe who had accused the deputy governors for their involvements.
The Counsel also said that the Commission had observed that due to the aforesaid passive attitude adopted by the two, this amounts to negligence and a breach of their responsibilities as Deputy Governors of the Central Bank.
Counsel Jayawardena pleaded the Court to instruct the prosecution to name the two Deputy Governors of the Central Bank to the pending case.
The Magistrate ordered the Counsel to make that request in court on the next date of inquiry and in the presence of the prosecution as to take appropriate action.
Arjuna Mahendran, a Singapore national of Sri Lankan origin, his son-in-law Arjun Aloysius and Perpetual Treasuries Ltd CEO Kasun Palisena were charged under the state Property Act for manipulating bond auctions in 2015 and 2016, causing losses of over $11 million to the state.
A presidential report into the high-profile bond scandal accused the former Central Bank Governor Arjuna Mahendran for insider trading.
The investigation also had recommended a forensic audit of the Central Bank during the Rajapaksa era, saying insider trading had occurred under his rule as well. (T.Farook Thajudeen)