---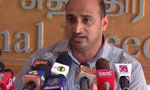 The National Freedom Front (NFF) today claimed that the funds allocated under the heading of presidential expenditure had been increased by 320 per cent and the funds allocated for education was reduced by 57.6 per cent in the 2017 Appropriation Bill.
NFF media spokesman Mohammed Muzammil said Rs.20 million had bee allocated for the President for a day and it was unethical for President Maithripala Sirisena to do so because he considered himself to be leading a humble lifestyle.
"The 2017 Budget can be considered as one which breaks the promises made by the Government to the people. The total expenditure for the President has increased by 320 per cent by reducing the facilities allocated to the people," he said.
He said State Minister Lakshman Yapa Abeywardane had indicated that the local government elections would be postponed till June next year.
"It is already 20 months since the elections were first postponed. The question is whether the postponing of the elections is appropriate for the 'Yahapalana Government," Mr. Muzammil said. (Kalathma Jayawardhane)