---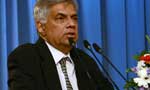 Allegations against Central Bank Governor Arjuna Mahendran should be proven for the government to take action against him, Prime Minister Ranil Wickremesinghe said today.
"A three-member committee was appointed to investigate the allegations against Mr Mahendran. They decided he was correct. Then the police carried out an investigation and they said there were no facts to file a case against him. Then a fundamental rights petition against Mr Mahendran was filed and that was dismissed by courts while the Committee on Public Enterprises ( COPE) is currently carrying out an investigation," he said during an interview with Independent Television Network (ITN).
"I don't have an intention of defending any one. The allegations against Mr. Mahendran should be proven in order to take action against him. But I won't hesitate to take action against Mr Mahendran if the allegations are proven," he added.
The Prime Minister was responding to a question posed to him by the ITN.
Mr Wickremeisnghe said the allegation against Mr. Mahendran was in connection to a bond issue.
"We are currently carrying out investigations on this allegation and it is done in a transparent manner," he said.