---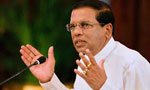 President Maithripala Sirisena said all educational institutions, including universities and vocational training centres should act as reconciliation centres and reconciliation should be included as a subject in the school curriculum.
Commenting on the clash between two factions of students occurred last week at the University of Jaffna, President Sirisena expressed his deep concerns and added that all our educational institutions should be reformed to prevent recurrence of such incidents in future.
He expressed these views when declaring open the newly-built Sri Lanka-German Technical Training Institute in Kilinochchi, today. It was built with financial assistance of Germany.
The President recalled that on January 8, 2015 the people elected him as President endorsing his policy statement presented at the election campaign and said he would fulfil all his promises.
"The Sinhala Buddhists will be able to live happily only after the concerns of other communities are resolved and the first step is to acknowledge that the people in the North also have grievances," he said.
The President requested the so-called heroes who conduct media conferences in the South to visit the North and East to listen and understand the concerns of the people living there.
"With the introduction of a new constitution, we hope to unite the divided communities without in any way dividing the country," he said and added that the emerging new political forces and leaders need to be free of allegations of corruption and misdeeds if they dream of becoming future leaders.
The President extended his warm wishes to German Ambassador Jürgen Morhard who will be leaving Sri Lanka when his tenure ends soon and expressed his gratitude to him for his contribution in obtaining German assistance to Sri Lanka including the construction of the vocational training centre in Kilinochchi.
President Sirisena planted a 'Kohomba' sapling to mark the opening of the Sri Lanka-German Training Institute before inspecting the Institute.
Diplomats, Ministers and MPs, including opposition Leader R Sampanthan, Minister Mahinda Samarasinghe, Northern Province Governor Reginald Cooray and many others participated at the event. (Sandun A Jayaskera)